2023-07-15 14:22:50
Costa Blanca - Summer holiday paradise live via webcams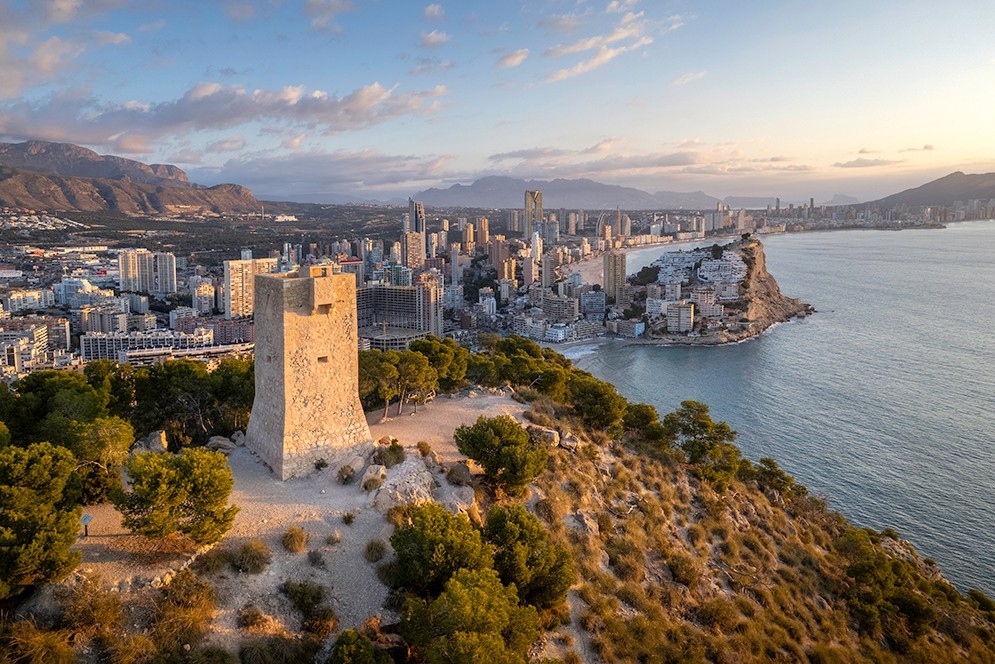 Costa Blanca is a popular tourist destination. Whether you are looking for sun on the beach, culture and history, or natural beauty, you will find plenty of activities to make your future stay there unforgettable. With the help of webcams, you can now see them live without leaving your couch.
Alicante
Alicante is a charming city located on the Costa Blanca in the Valencia region. It is a popular tourist destination that offers beautiful beaches, rich history, and plenty of attractions. Tourists can enjoy both relaxing time on the beach and discovering the fascinating past of the place.
Playa del Postiguet is the most famous beach in the city centre, where you can relax, sunbathe, and enjoy swimming in the sea. A little further north is Playa de San Juan, one of the longest and most beautiful beaches in the region.
Alicante's main attraction is the imposing Santa Barbara Castle on a hill 166 metres high. The castle offers an incredible panorama overlooking the city, the harbour, and the Mediterranean Sea.
The seaside promenade Explanada de España, covered in a mosaic of marble tiles, attracts crowds of tourists every day. Along the promenade, there are numerous restaurants, cafés and shops on one side and the harbour on the other with a magnificent view of the sea.
See the Alicante cameras available in WorldCam.eu.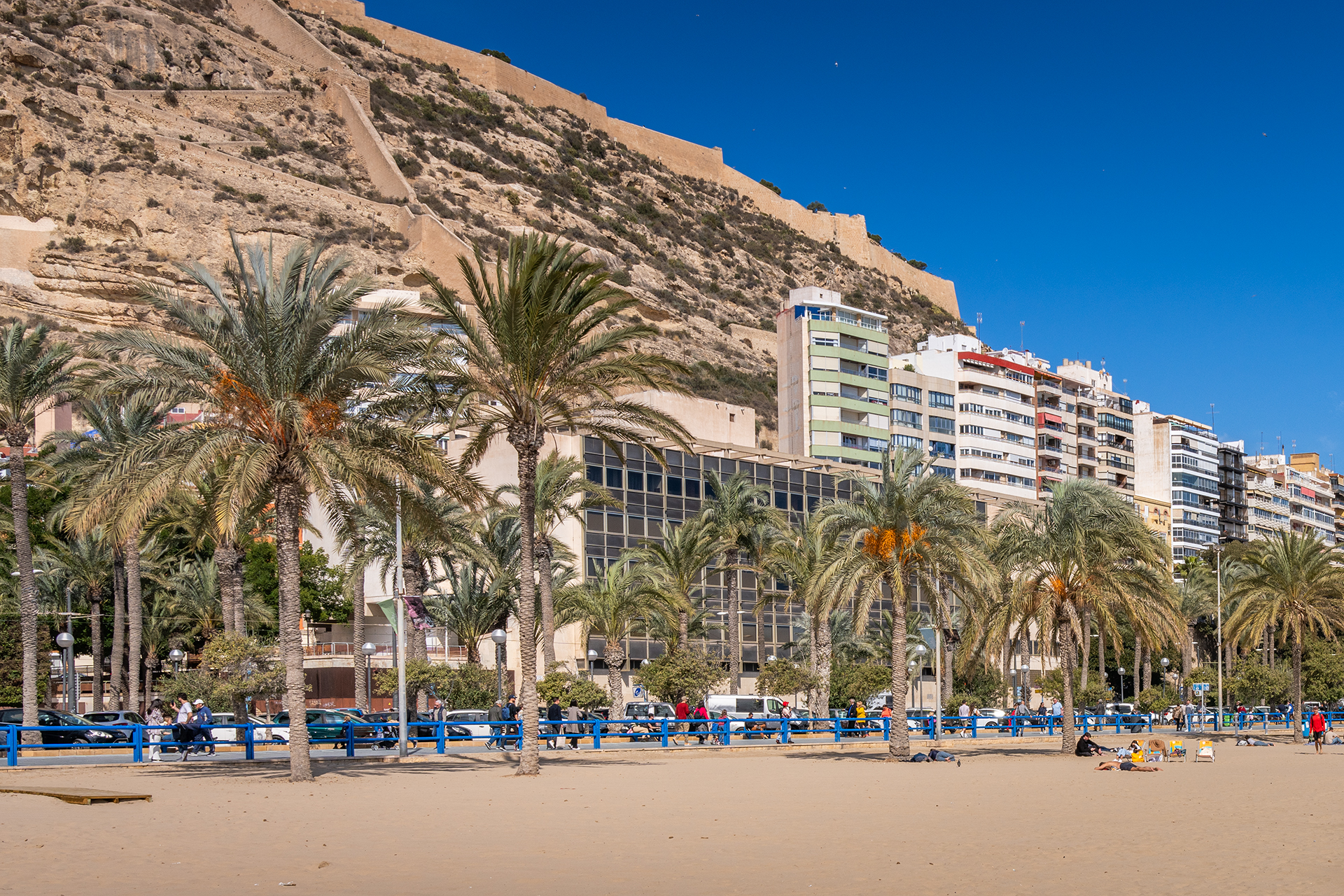 Benidorm
Benidorm is a popular tourist destination located on the Costa Blanca. It is one of the most important tourist destinations in the country, attracting millions of visitors each year. Benidorm has two main beaches, Playa de Levante (East Beach) and Playa de Poniente (West Beach), which offer excellent conditions for sunbathing, swimming, and water sports.
Benidorm is known for its coastline full of skyscrapers. The city is one of the few places in Europe where you can find so many high-rise residential and hotel buildings. For this reason, Benidorm is often referred to as the Brazilian or Asian city of Europe.
In summer, Benidorm is a place with a rich nightlife. There are scores of bars, clubs, and discos offering entertainment for thrill-seeking youngsters. In winter, their place is taken by elderly people who seek peace and quiet, and enjoy the charm of a mild winter.
See Benidorm's most popular beaches live via webcams:
You can find all the cameras from Benidorm on the website:
https://worldcam.eu/search?q=Benidorm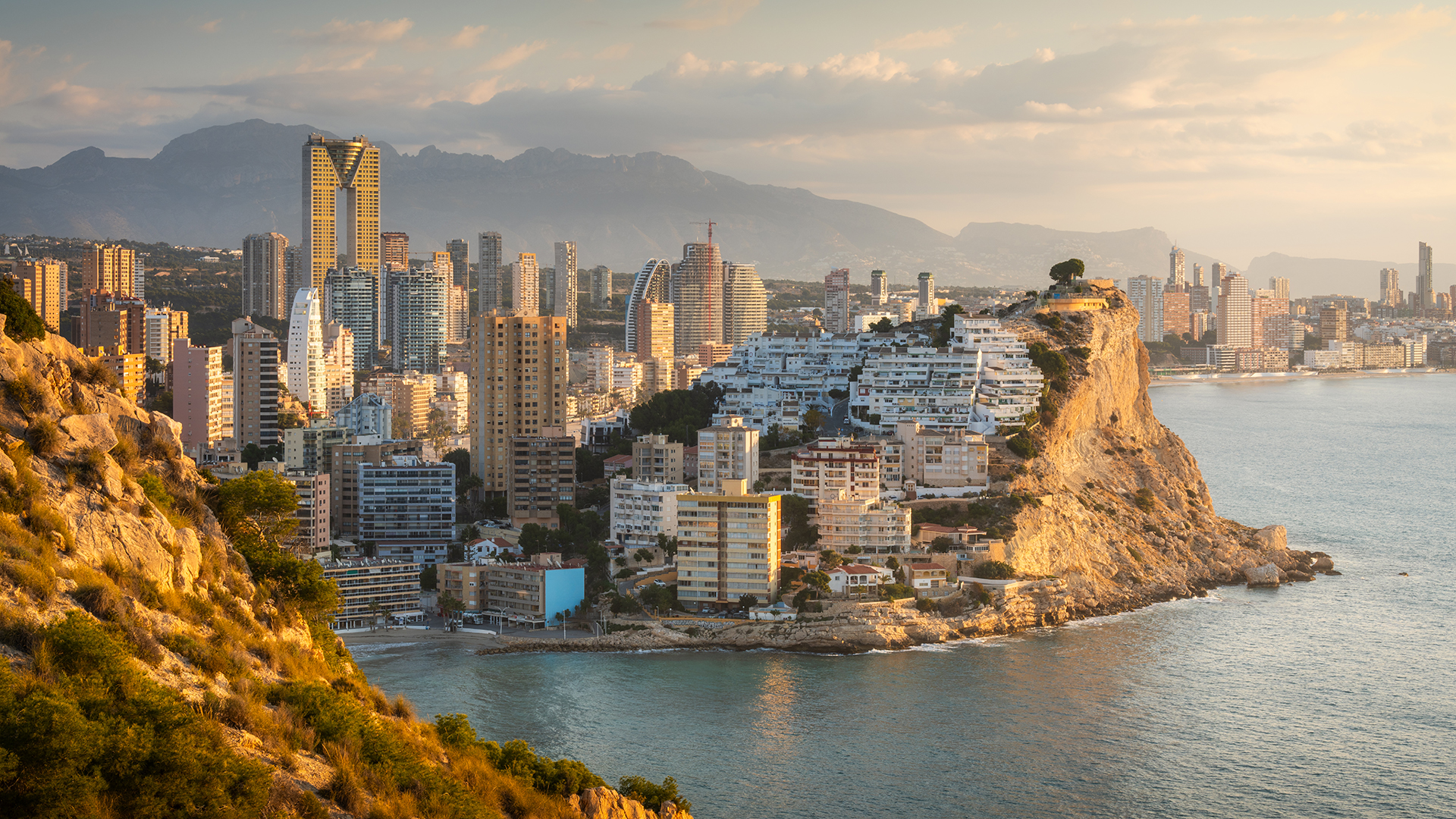 Calp/Calpe
Calp, also known as Calpe, is a picturesque town halfway between Alicante and Valencia. The town attracts both beach lovers and travellers seeking beautiful scenery and natural attractions.
A distinctive landmark in Calp is the Ifach rock, a huge limestone massif that rises to 332 m above sea level. Around it, the Penyal d'Ifac Protected Landscape Area has been created. From the top of the rock you can enjoy a breathtaking view of Calpe and its surrounding area.
The town has two large sandy beaches with crystal clear waters that attract a multitude of tourists every year - Platja de la Fossa and Platja de Cantal Roig. It is an ideal place for sunbathing and swimming in the warm sea.
See the beach of Arenal-Bol in Calpe via webcam with the magnificent Peñón de Ifach rock in the background.
https://worldcam.eu/webcams/europe/spain/19472-calp-arenal-beach-penon-de-ifach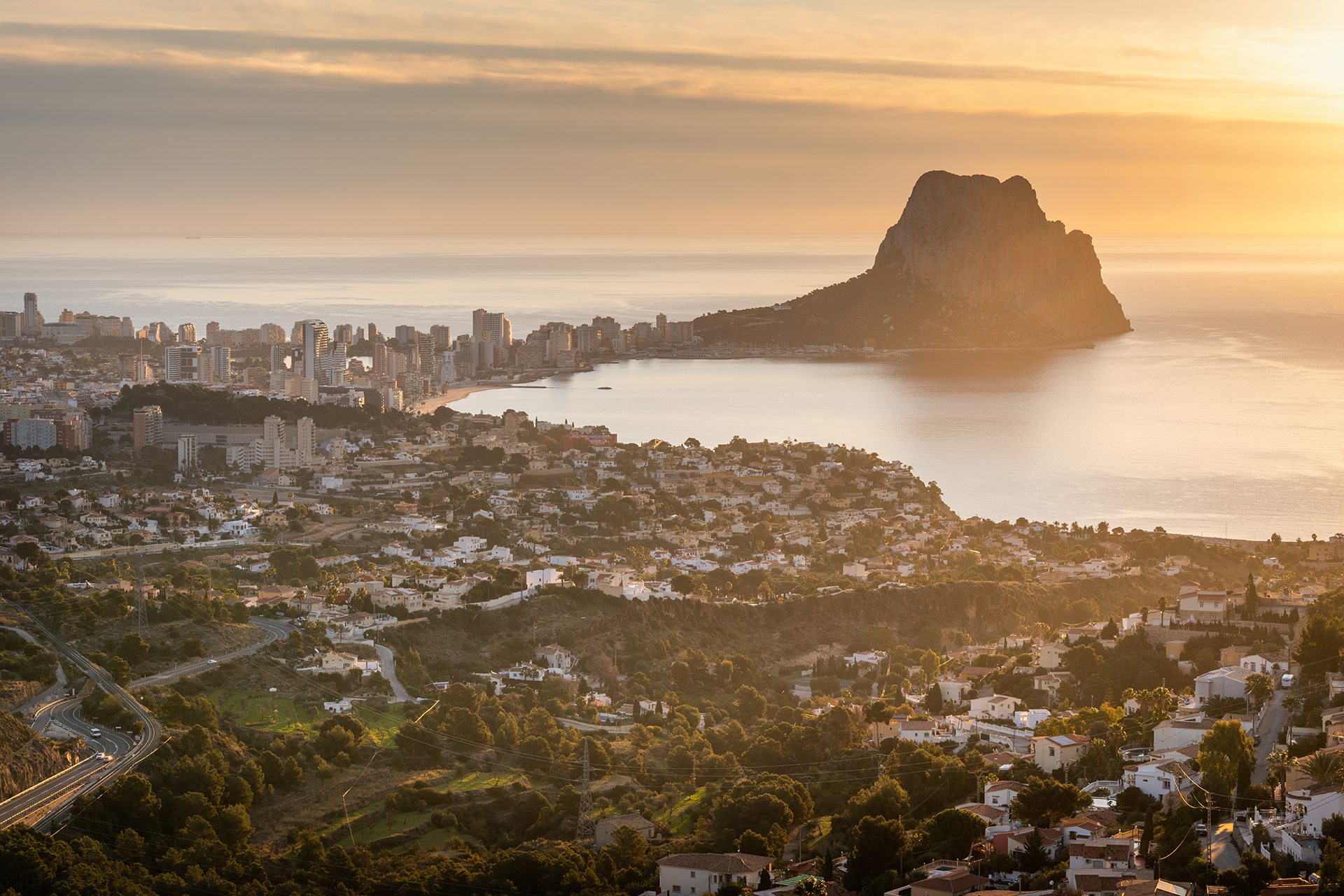 Altea & L'Albir
Altea is another town located on the Costa Blanca. It is known for its charm delivered by its picturesque old town, rich culture, and beautiful beaches.
Casco Antiguo is a real maze of narrow streets, white houses, and colourful flowers. Here you can walk around, admire the historic architecture, and enjoy the atmosphere of an old Spanish town. The most important monument is the towering Nuestra Señora del Consuelo church with its distinctive blue and white domes up high.
Altea also has some interesting beaches. Playa de la Roda is the main beach in the heart of the city. Although it is partly rocky, you can still relax there and enjoy a swim in the clear waters of the Mediterranean. A little further south is the equally popular Playa del Albir. There are also a number of smaller beaches in the area that offer tranquillity and more privacy.
Altea has a charming promenade that runs along the coast. It is the perfect place for a walk with views of the sea, yachts, and beautiful sunsets.
You can find all the cameras from Altea and L'Albir on the website:
https://worldcam.eu/search?q=Altea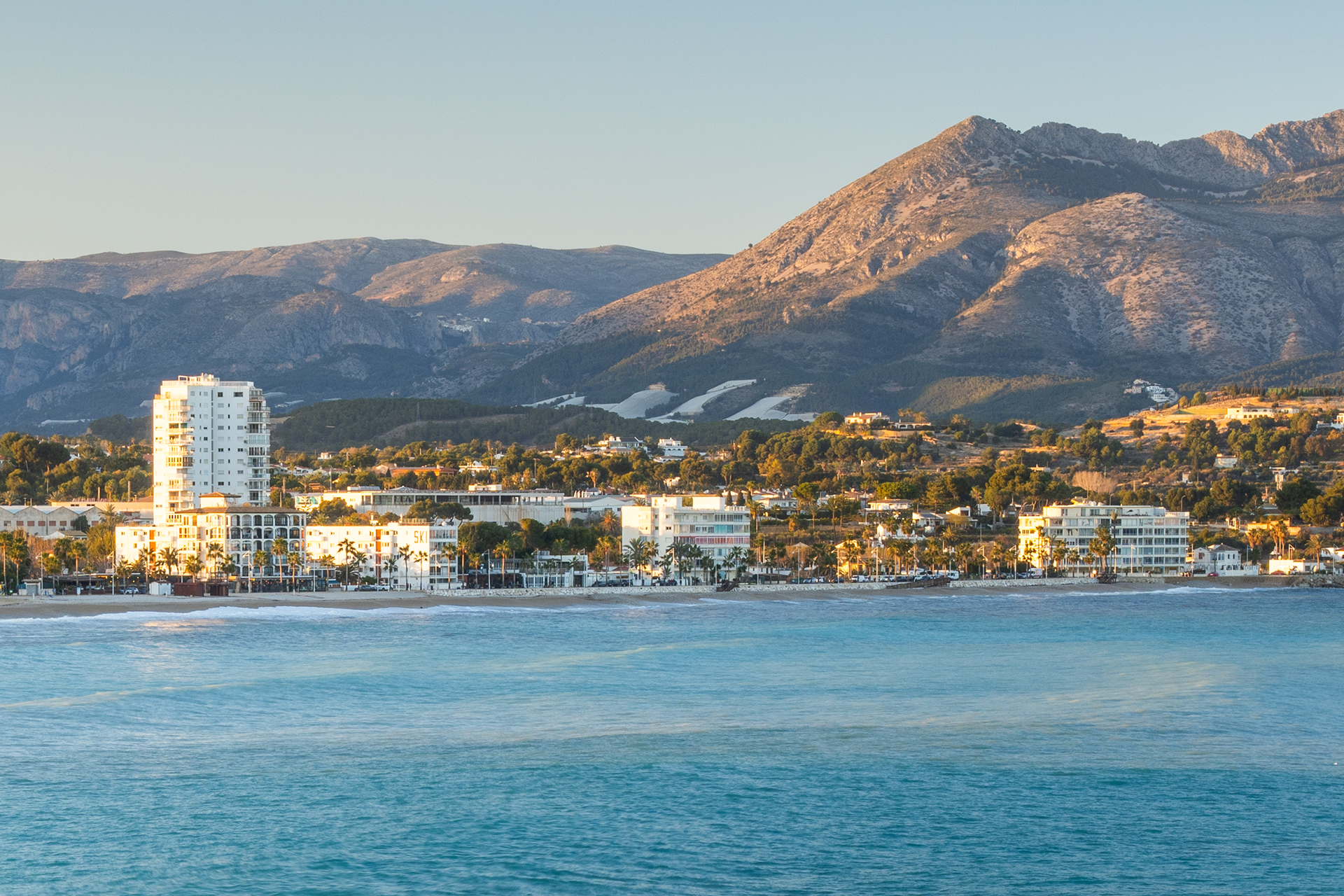 Costa Blanca has a favourable climate, with mild winters and hot, sunny summers. Favourable weather conditions make the region an ideal holiday destination all year round.
Costa Blanca is home to many natural attractions such as the Serra Gelada nature park and Montgó. These are excellent places for hiking and nature observation. We kindly encourage and recommend a holiday in this very charming corner of Spain.
---
Author: WorldCam Editors
---